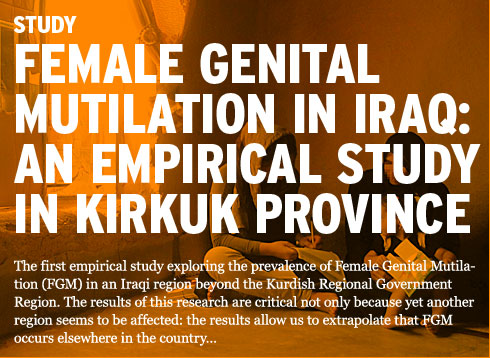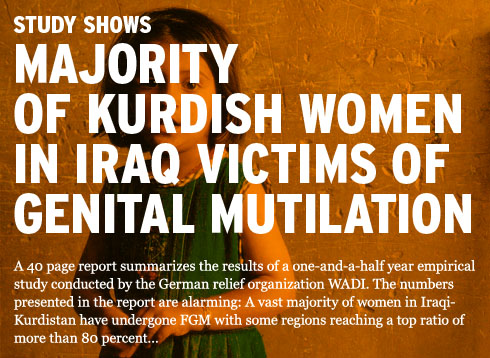 The Campaign: Stop FGM in Iraqi-Kurdistan
In the few years since it has been launched, the campaign Stop FGM in Kurdistan has created the conditions for an effective struggle against female genital mutilation (FGM) in Kurdish northern Iraq.
Today, people discuss FGM openly in the newspapers, in radio and TV shows and on the streets. It has not always been this way. Through awareness and advocacy initiatives, the campaign Stop FGM in Kurdistan succeeded in breaking a taboo, making FGM a widely discussed issue. Information is now available to everyone in northern Iraq about the consequences of FGM: pain and suffering, physical and psychological harms, life-long anxiety and loss of ability to feel sexual sensations. FGM is now a recognized problem among the Kurdish public and the local authorities.
A broad network
Stop FGM in Kurdistan is a network of local and international organizations, human rights activists, artists and journalists. They are all committed to ending FGM.
For this reason, the network organizes public and prevention work, engages in political lobbying and works on the ground. For instance, the aid association WADI is running several mobile teams, providing assistance to women across the region.
International awareness
On an international level, the existence of FGM in Iraq has been ignored for many years. Female genital mutilation has been commonly described as an 'African disease'. Thanks to Stop FGM in Kurdistan, this approach is now changing.
In 2009, the United Nations Assistance Mission for Iraq (UNAMI) reported about FGM in Kurdistan for the first time. UNICEF/Arbil followed. Shortly before, WADI had published the first findings from a comprehensive study it was about to conduct, indicating that FGM is prevalent in almost all parts of Iraqi Kurdistan. The study, published in 2010, showed that FGM is as widespread in urban areas as it is in the countryside. Human Rights Watch subsequently published a report titled "They took me and told me nothing", which confirmed the results found by WADI.
Today, the problem of FGM in Kurdistan is internationally recognized beyond dispute. In 2011, after initial reluctance, even the Kurdish Regional parliament dealt with this issue and passed the so-called Family Violence Bill, criminalizing FGM and other forms of violence against women and children. This step led to the fierce protest of some Mullahs and religious associations which called the new law unislamic. However, it is important to have their voices heard as well because the Kurdish society needs an open debate on the conflicting positions of tradition and human rights. For the first time, all positions are on the table now, and this breakthrough has become possible thanks to the Stop FGM campaign.
Prospects
WADI is looking beyond the borders of the Kurdish Autonomous Region because there is strong evidence for FGM being prevalent also in other parts of Iraq.
In cooperation with the local women's rights organization Pana, WADI is now offering awareness training in the Kirkuk region where due to security reasons it was previously not possible to address such a sensitive issue. The anti-FGM awareness teams are also collecting data for a comprehensive statistical survey on the prevalence of FGM in Kirkuk.
In Iraqi Kurdistan, WADI is currently conducting the FGM-free village project. Several villages willing to stop the "tradition" will announce their intentions publicly in exchange for small community projects. Their declarations will encourage other villages to follow the example. They will become a powerful promotion tool for the sake of Stop FGM because a statement from fellow dwellers is much more convincing than some abstract demands from outsiders.
Your donation will make a difference
To hold to the successes achieved by this campaign so far, and to advance further, we need your support: Any donation will make a difference.
Open discussions are very important, but do not necessarily bring people to quit their "tradition", especially in the rural areas. More awareness and education is needed, while the government, too, needs to take more action. The campaign Stop FGM in Kurdistan supports the public movement lobbying the government to act.